"Dr. Feeney is all about doing things "excellently". He is passionate about the science as well as the people side of dentistry! Dr. Feeney keeps up to date on the latest, most effective dental techniques, to make sure any "repairs" last as long as possible and with a minimum of discomfort. He also takes extra time and extra steps to ensure your comfort. Two examples - he uses as much pain control as you need and takes the time to inject it slowly so the numbing process isn't uncomfortable, and for fillings he uses two layers of something between the tooth and the filling to lessen sensitivity to heat and cold in the restored tooth. Also, the staff makes sure you have a blanket to keep you calm and comfortable, and unless you don't want to know, Dr. Feeney explains what he is doing each step of the way. He also takes pride in the "art" of restoring a tooth as close as possible to its original condition, making sure the chewing surfaces match smoothly with the opposing teeth. My son recently had two teeth extracted at the recommendation of his orthodontist. Dr. Feeney did the job so quickly and painlessly that when the second tooth was out, my son said, "He's done already?" I was watching the whole time and it was a very gentle process. Dr. Feeney relates well to kids and adults, and expects the best out of his staff as well. We have been very satisfied patients."
Susan S.
 Thanks for the great picture Skyla!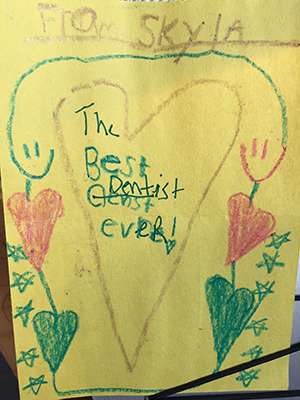 "It's so peaceful here!" Lisa G.


"Did you numb yet?" Coby W.


"You mean they're out?" Keegan S. (After extraction of teeth #D&G)


"I was waiting for you to give me the injection. I didn't even feel a tiny poke!" Heidi R.